Commerce High School


Class Of 1988
In Memory
Pat Brown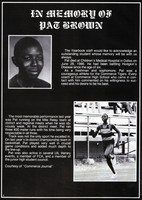 In Memory of Pat Brown

Whether running the hurdles, playing basketball, student government or many other activities, Pat did them all with a zest for life like no other. Pat was an extremely gifted artist and made many masterpieces on the back of his notebooks during class while still making an A. He was a loyal friend, fierce competitor and a very good dancer. His dance moves became legend at the track meets around the district.

Pat left us to soon, but not before leaving a lasting impression on Commerce and CHS. He is sorely missed.